Lung ultrasound before and after fiberbronchoscopy – modifications may improve ventilator-associated pneumonia diagnosis
S. Mongodi, B. Bouhemad, A. Orlando, A. Stella, G. Via, G. Iotti,A. Braschi, F. Mojoli
Crit Care 2016, 20(Suppl.2), 94, P094
Introduction: Lung Ultrasound (LUS) is a validated tool for Ventilator-Associated Pneumonia (VAP) diagnosis [1] and monitoring[2]. Dynamic linear/arborescent air-bronchogram is specific for VAP.
Methods: 2 patients suspected for VAP were examined before and after fiberbronchoscopy (FBS) by LUS, focusing on subpleural consolidations, lobar/hemilobar consolidations and air-bronchogram. Bronchoalveolar-lavage (BAL) was performed.
Results: Before FBS, LUS pattern wasn't specific for VAP: both patients had only bilateral consolidations with no air-bronchogram (Fig. 16a,c). After FBS, LUS pattern changed. In patient 1, the tissuelike pattern turned into B-lines (Fig. 16b). BAL was negative. In patient 2, the same tissue-like pattern was visualized after FBS; a dynamic arborescent air-bronchogram appeared (Fig. 16d). BAL had P.Aeruginosa 10(6) CFU/ml.
Conclusions: LUS allows early bedside VAP diagnosis. If the pattern is non specific, changes after FBS may be useful: reaeration orients to atelectasis; persistence of complete loss of aeration with dynamic airbronchogram appearance orients to VAP.
References 1. Mongodi et al, Chest In press 2.Bouhemad et al, Crit Care Med 38;1:84-92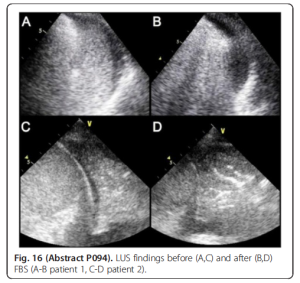 Full text available from Critical Care